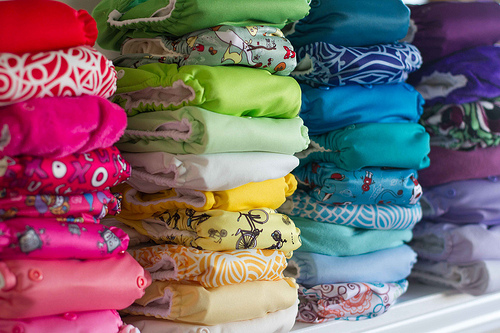 Do you have some cloth diapers that you just don't use? Has baby potty trained? Maybe you washed a few, then decided they weren't your favorites? Bring them back to Nappy Shoppe for store credit towards anything else in the store.
Nappy Shoppe currently accepts diapers from the brands we stock new with some exceptions for diapers we used to stock or are very familiar with. Diapers must be gently used and in excellent used condition.

Diapers should be clean and odor-free. Please wash and thoroughly dry diapers before bringing them in .


Diapers should be free of stains, pet or human hair, lint, tears, fading, etc.
Snaps and Velcro should be fully intact and functional.
Elastic should be snug and functional.
When you bring in your diapers, we'll look over them and make you an offer. We base our offer on condition and popularity of the diapers, as well as on what we already have stocked. You don't have to accept our offer, but our offer is firm. As with any consignment or resale situation, the amount of credit we are able to offer you won't be as much as you'd make if you sold your diapers on your own .
Buybacks are accepted most days but are subject to staff availability. If we are busy, or the right staff is not available, you will need to drop off your diapers for us to evaluate when we can . We will contact you with an offer via phone or email.
We'll offer store credit ONLY for your diapers. This store credit will never expire and can be used toward the purchase of anything in the store.
Nappy Shoppe reserves the right to refuse credit for any diapers for any reason. We will only be selling pre-loved diapers in store only. There are no returns on used diapers. They may be brought back through the pre-loved system and an offer made if they are still in good condition.
If you decline our offer for your diapers, we ask that you pick up your diapers within 7 business days. Diapers left longer than that will be processed and a store credit gift card issued. We are unable to store diapers indefinitely due to space reasons. Diapers that we reject for whatever reason, we encourage that you consider donating them to the local cloth diaper charity.