Thank you everyone for your wonderful words of encouragement as Nappy Shoppe grows into this new space. It has been a lot of work, and I am incredibly tired yet happy at the same time. I have had some great help from my daughter and her friends, my brother in law, and my friend Heather in setting up the space.
So to follow is some photos of the progress we are making. There are other articles I wrote recently about the move and more details.
Oh and locals are loving it. Quite a few have turned up to check out the space. I think they love the fact that there is a cloth diaper store locally even if it is only by appointment :)
I bought a commercial garment rack to hang the wet bags on. In this photo we have just started hanging the wet bags on the rack. We have over 300 bags in stock, most of which are made locally for Nappy Shoppe by my quilting friends. We did finish hanging all the bags today (photos to come). And they look great on there and it will be easy to find the pattern a customer has ordered, and easy for locals to choose the one they want :)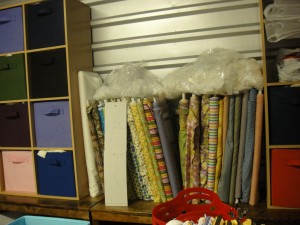 I "stole" the shelving out of our game room and used it to store bolts of interfacing, microchamois etc. It is just out of the picture. What you see here is bolts of cottons resting on top of it between 2 storage units I picked up at Target a few years ago. In each of those canvas bins is scraps waiting to be turned into half inserts and g-scraps. Those bags on top of the bolts contain the die cut aplix tabs for diapers.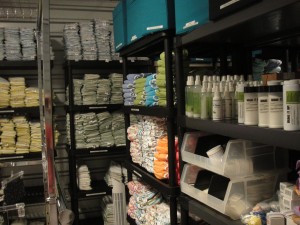 We made isles of garage shelving that I already had in my old storage units. It was fairly cheap from Lowes. It works great for holding diapers. On top of the shelves are canvas bins I got from Ikea that hold things that do not shelve that great.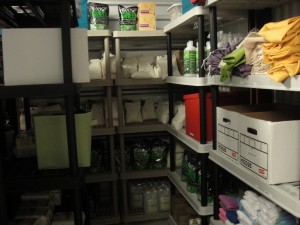 The garage shelving manages to hold the weight of the Rockin Green etc. The corner gets dark. I am going to have to invest in more lighting for the back corners. This is the brightest it has ever looked and that is thanks to my camera flash :)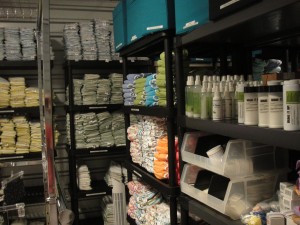 Where we could we sorted diapers by colour and size to make it quick and easy to fill orders.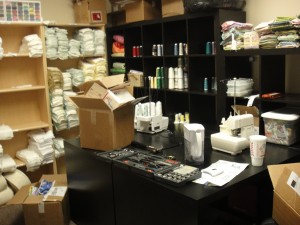 The sewing room is pretty much set up since this photo was taken. The black shelving and desk unit for the sergers is from Ikea. You can see flappers in various stages of construction on the brown shelves. The colourful drawers above are my snaps all nicely sorted. And then the fabric to the right is for diaper bags and wet bags. We will likely have to find another solution to store the cones of thread. They keep vibrating off the shelves onto the sewers below!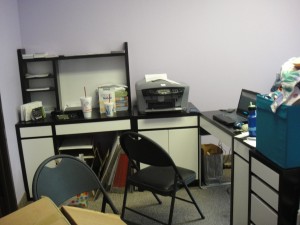 The office/packing room/show room will be all set up thanks to Ikea again. (Love that store for affordable practical furniture). Poor Lauren has assembled so many pieces of furniture for the new space. It is now almost all set up now. A corner unit is missing from this picture. Three local photographers will be taking pictures of babies in diapers for the walls. My view will be soooo pretty :)