We managed to move the store in less than a month!
So it has been on the agenda for us to move our store from behind the black security gate of the office warehouse location. We get ZERO walk past traffic there, because we are simply not visible from the road. All of our business is from people seeking us out. We have products that are hard to find elsewhere, and one of the biggest selections around the DFW area, so my business has survived purely on web searches and word of mouth.
My first foray into the world of commercial real estate ended in disappointment. I did not get an agent, so I went into negotiating for a space on my own. And the first look over of the space, started out with rent is x amount, and we will give you x amount for fixing up the space. Then I put in an application, and the rent went up to Y amount, and 0 for fixing it up. It became more than my little business could afford, so under the advice of my wonderful staff, we pulled out of that negotiation and decided to hold off the hunt until the end of first quarter 2012.
So much for that plan. When I went to pay the rent for January, our current landlord told us that we had become too busy for our current location. And the sound of children and babies was too much for some of the other tenants. So it was time for us to look for another space. I was a bit worried about not being able to do it on my time frame, but you have to roll with the punches.
So this time we decided to do it right. Some google researches showed that an agent is paid for by the landlord, not the tenant! So that was not going to be an extra cost. So then came the question, who do I know that knows a commercial real estate agent. It's a whole different ball game from residential real estate. Found a friend of a friend of a friend. An agent who specialized in tenants, not landlords. And this was the best move I had made so far. Olin Jaye had been in the industry for years, and he knew his stuff. He was patient with our ignorance, and was dedicated to finding the right space for us at a price we could afford. I honestly thought I would be at least doubling my rent expense based on my previous experience. So if any of my local small business friends are looking for a good agent, we have nothing but good to say about Olin Jaye.
So he took us around a bunch of places after he toured our existing space. He wanted to get a feel for what we were looking for. We saw some interesting spaces, including a former vet clinic that had some kind of broken pipe that had us running from the building holding our noses. He negotiated with the landlords agents for us, asked all the tough questions for us. Told us if it was going to be a good deal or not. We saw one space that needed a ceiling put in and a floor laid, and he asked if they were willing to fix, no, he told us to walk away from that one. He understood our limited budget and his goal was to get us into space that we could afford.
Then we came across a space that he could not get us to the inside of until the next day. We peered through the windows and said well what we can see looks good, but we need to know if what is behind the wall in the middle it is big enough for the office and sewing. If there is space for classes and so on. He took us back the next day.
This was a space that had stood empty for a while. And for many businesses it would not work because of the way it was divided up. But my business is not typical. We need a large office, we need retail, we need a classroom, we need a sewing room, we need a space for employees children. Walking this space, it had it all. And it didn't really need a lot of modification to give us all that we needed. A coat of paint, and a door knocked between 2 spaces. It needed a sink for a break room, but the water connection was already there, so it would not be expensive to do.
Yes this was our space. Could we afford it? Well it is the cheapest of the spaces we were looking at. Well nice!! And that was before Olin negotiated a deal! By the time he was done, we came out with not having to pay rent double to what we had before, but rent the same as before but 1000 more square feet than we had before, and more importantly a space that was easily found and not behind a security gate.
Then the nitty gritty of lease signing, getting an attorney to look over the lease. And then on January 25th, I had the keys in my hand, and we were ready for getting utilities connected, city inspections and so forth …
And it is located on the South West Corner of Independence and Parker in Plano. Behind Half Price books, next to Covinos.
So here are the before photos of the space …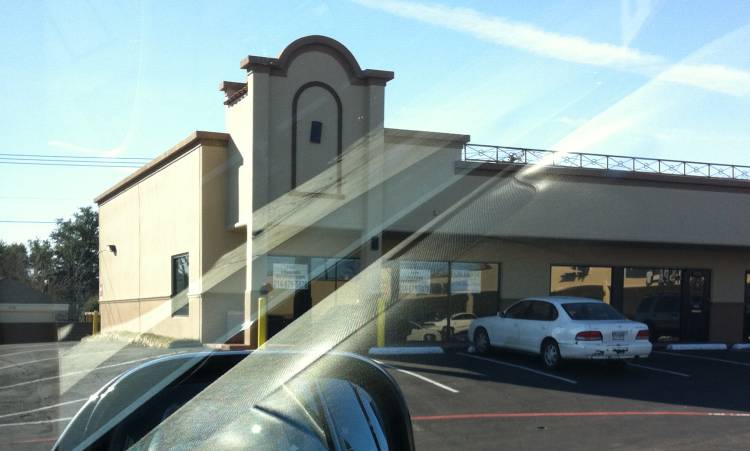 This is the store front. All the windows you see here are actually ALL of it. So can you see mannequins with baby carriers in a window? To the right is Covinos, a popular restaurant in Plano. We negotiated into the lease, the right to reserve two of those parking spaces in front for pregnant and new mothers. We will be getting a big lit sign saying Nappy Shoppe up on the facade.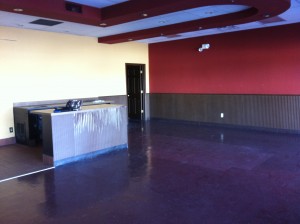 This is the front room, the main retail space. It has a cash wrap already in place that needs a little bit of paint and repair to make it work. But it has power in it for our Point of Sale machine. Space for us to store our reusable bags that everyone loves. The floors are in good condition, so they need no work. The walls will need painting and the red feature on the ceiling will get painted purple and some pendant lights put up. On the right is where we will punch out a doorway to the space next to it. The door leads to the bathrooms. Out of view on the left is another door that leads to office/breakroom.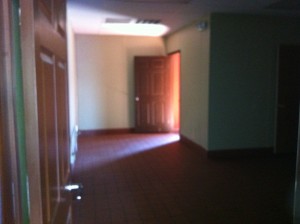 This will be the office and break room. It has a tile floor, and there is water connections. So we just have to put in a sink. The door with the light leads to a storage room with the back door.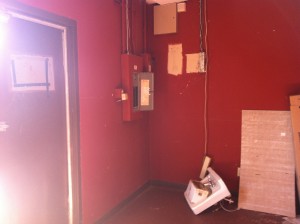 This room is a small storage room. It will be wear we will store things like extra bags, extra product, all those things we don't want in the way :) It has two large double doors for any fabric roll deliveries etc.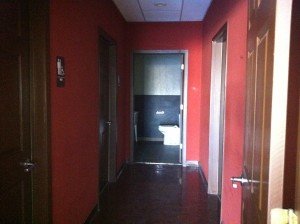 Three bathrooms! Mens, Ladies and Staff. We will get rid of the red here, and get our signature purple going here. And there is a nice long wall on the right to feature our wonderful photographers. Can you see it? A wall of photos of babies in cloth :) To the right of the bathroom door that is open, is a door that leads to a "staff only" area.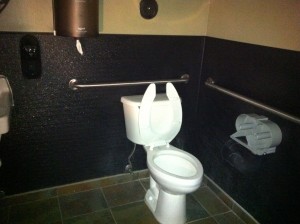 The bathrooms are actually nice! Nice tile etc. And I promise to keep the toilet roll holders full :)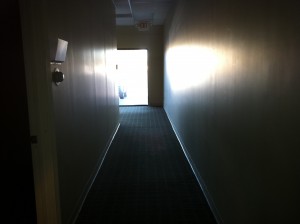 This is the hall on the other side of the staff only door. Down to the right near the window, will be where we will cut open the wall to the retail space, so that what is near the window will be retail too. We will actually block off this hallway at the end, and it will be converted into the dressing room. To the left near the camera is two doors. One leads to sewing, one to the homeschooling room.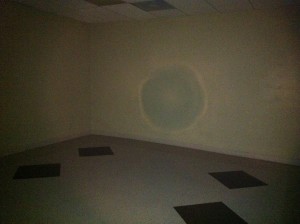 There was no power connected when I was taking these photos, so we had to do all this with the flashlight. This large room will be our sewing room. No more drafty warehouse for the girls! A floor that will be easy to clean.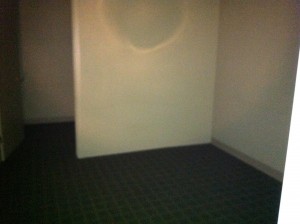 This room is right next to the sewing room. It is for the children of employees. Some of us homeschool, so it will have space for children to study. It will have a TV and DVD player, and a couple of little comfy chairs. And of course toys. And that little room off to the left there, that will have a pack and play in it for naps. And another desk for any child that needs a quieter space to work.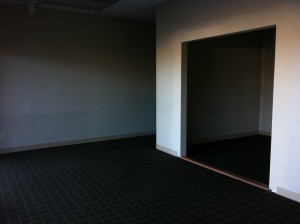 This room, we are super excited about. To the left is that long hallway. And the wall on the left will be where the cut out will be to join the retail spaces. So the front part will be retail. This room to the right will be our class room/community room. It will start out with folding chairs, but as money allows we will get some comfy chairs in there. If you ever need a space to come and breastfeed baby, this space will be available for that while empty. And we will have another space in the main retail area for mums to sit and feed in.
So we are pretty excited about this space. It fills all of our unique needs, from retail, to office, to sewing, to classes, to homeschooling. And located pretty centrally in Plano as well :)
Stay tuned, we will be taking plenty of photos of the changes that we make :)