Posted on
By Sharni
Posted in recipes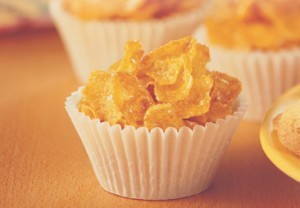 I grew up on these in Australia, and my kids love them.
For me growing up in Australia and going to birthday parties, it wasn't a good birthday party if you didn't get honey joys. And since moving to the US I have introduced Honey Joys to my friends and their kids, and they have been a big hit. When I put them in Connor's lunch at pre-school, I included one extra so he could share it with a friend. His teacher was saying I had to make a full batch for the whole class as they were all fighting over the single one, including the teachers! And then they all wanted the recipe. So here it is. I have Americanised it as Americans still use the antiquated Imperial Measuring system. You will need patty cases or cup cake papers for this recipe. I also often throw in a little extra honey and butter .. not quite double the amount, but proportionate extra's of those two ingredients will make them a little more gooey :)
2 oz butter
1/4 cup honey
1 tablespoon sugar
4 cups cornflakes
Preheat oven to 350 deg F.
Place butter, honey, and sugar into a small saucepan, and stir over medium heat until butter melts and the mixture becomes frothy.
Place the cornflakes in a bowl that can withstand heat, and pour in the honey mixture and stir well.
Place spoonfuls of the mixture into prepared patty cases.
Bake for around 7-8 minutes. Make sure they do not start to go brown.
Stand for around 15 minutes to allow them to firm up and cool down.
Makes around 30.