Better to love than hate.
Better to Love than to Hate
We've all heard the typical arguments as to why we should cloth diaper. It's better for your budget, better for the environment, and better for your baby (Not to mention they are stinkin' adorable!). However, there is one benefit that I have found since I started cloth diapering that I think is greatest of them all.
I diapered my now 3 year old twins for a little over 2 ½ years in disposable diapers. I changed a lot of diapers every day and I hated it. I hated the squishy feeling of a pee soaked disposable. I hated the nasty, up-the-back-and-down-the-leg, poop explosions. I hated the stinky garbage can. I hated the huge boxes taking up space in my house. I think you get the picture. I hated diapering my twins.
Now that I cloth diaper my 9 month old baby girl, I love diapering. I love the adorable prints and matching her diapers with her outfits. I love looking at her fluffy bum crawling around the house. I love looking for amazing deals on all the cloth diaper websites and for sale or trade forums. I love choosing which diaper I'm in the mood to use. I love seeing all her colorful diapers hanging outside in the sun and admiring her changing table after it has been freshly stocked with clean diapers. I love the cloth diapering community and how I finally feel like I "belong" somewhere.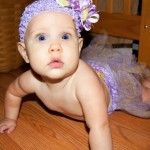 For me, this is the greatest benefit of cloth diapering. I have to diaper my baby; there is no way around it. So instead of loathing it, I have embraced it. I think finding joy in the mundane things in life is a serious challenge, and I have found joy in diapering through cloth.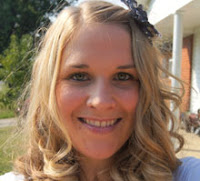 Amanda is a stay-at-home mom of 3 year old, identical, twin boys and a beautiful, 8 month old, baby girl. She is a new found cloth diaper addict who also enjoys sewing and crocheting when the kids aren't climbing all over her. She married an amazing man and enjoys living two houses away from her in-laws. Amanda has a degree in Public Health Education from Brigham Young University. She started blogging to keep her family updated on the crazy and cute things her kids are up to. You find her at The Duke Family blog.