Washing woolies can be intimidating, but really its not!
My friend, Crunchy Shannon, generously gives me her daughter's clothes for my (eek!) almost one year old daughter. Crunchy Shannon used cloth diapers and has the best wool soakers, skirties and longies. I have been having so much fun using them with my diapers but I have been so fearful of washing them. I mean look at them! They're so cute!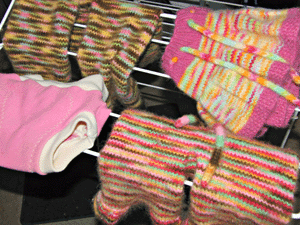 After much hesitation I took the plunge and bought some Eucalan wash. Eucalan wash is made for washing wool and other delicate clothing. It is a lanolin rich washing agent. Lanolin is the conditioning agent naturally present in wool. Lanolin is actually from the sheep's glands and keeps a sheep wool dry and soft. When you wear and use wool, especially with cloth diapers, you don't have to wash it frequently because it naturally has anti-bacterial properties. At the time I decided to wash my wool it had been quite some time. I don't use wool daily but when my son was in cloth diapers I used wool soakers at night. It can go a long time between washes.
With Eucalan you can hand wash or use it in your machine. When using it in your machine you'll use cold or lukewarm and set it on the delicate/gentle cycle; during the cycle open it up and let it soak. Then do a spin cycle and you're done.
When you hand wash with Eucalan you fill a tub or basin with cold or lukewarm water. Add the Eucalan to the water and add the wool to the water. Gently work the Eucalan wash through the wool and then squeeze the wool to get the excess water out.
Wait what?! What about rinsing it? No, you don't have to rinse it out…Eucalan is a non-rinsing wash. How great is that? Oh and if it smells? It's normal. Maybe it's just my washer and water but I laundry room smelled like a beauty salon doing perms.

Elizabeth (aka Bert) is a stay-at-home-mom and contributing writer for She Thinks Media. She lives in the Twin Cities with her husband, Ben, her son Buggie, and daughter Lady Bug. When she's not trying to convince Buggie to expand his interests beyond Thomas the Train or put his pants back on she's writing about her experiences as a mom on her blog, First Time Mom (FTM). After all, Bert maintains there's a first time for everything, even if you have more than one child!