Posted on
By Sharni
Posted in recipes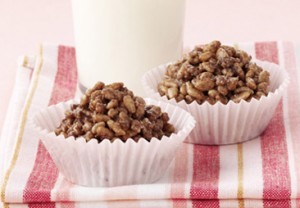 I grew up on these in Australia.
Chocolate Crackles were a staple at birthday parties when I was growing up in Australia. I took them for granted, and found when I moved to the US that one of the key ingredients is simply not made here! Well recently I found said key ingredient online and ordered some. I made up the Chocolate Crackles for a group of friends, and they were a huge hit.
250g (9oz) Copha (a brand of solidified coconut oil — see note below)
4 cups of Rice Bubbles or similar puffed rice (Rice Crispies in the US)
1 cup icing sugar (powdered sugar in the US)
3 tablespoons cocoa
1 cup dessicated coconut (see note below)
Melt Copha in a saucepan over a low heat or in a microwave oven. Mix dried ingredients. Mix with melted Copha until well combined. Spoon mixture evenly into 24 paper patty containers. Set in the refrigerator.
Please note that a cup in Australia is 250 mls, and a tablespoon is 20 mls.

Now Copha is the tricky ingredient to get. I got it from www.simplyaustralian.com and they shipped it to me. I wouldn't want to ship it in the middle of summer though. It is a product that needs to be refridgerated. The other thing you need to be careful about is the desicated coconut. Most coconut in the US is slathered in a sugary syrup (yuck!) and its huge flakey chunks. Again I got my coconut from www.simplyaustralian.com.