When you buy USA made you are supporting American families directly.
Now we feature Planetwise & Best Bottoms Diapers. Best Bottom's is our most popular all in two system that we have in the store. It is a one size option that will last through to potty training. We love the cute prints & colour combinations as well! Planetwise diapers are a two size system, and have a unique two co-coordinating print style that is popular.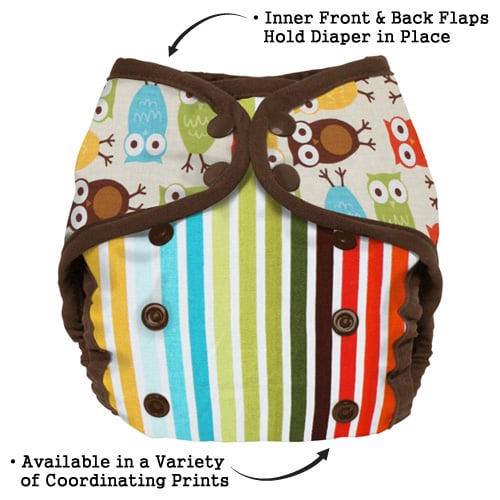 Planet Wise Inc.™ is a privately owned family corporation; founded by Nicki Maynard and later joined by husband Jesse. As a husband and wife team, they are working together to ensure the highest quality products while following responsible environmental and social business practices.
How Does Planet Wise Inc™ Help the Environment? To reduce their environmental impact, all products have been thoroughly researched and are all PVC-free and lead-free (a surprising fact is that many zippers have been painted using paint that contains lead). All the products we have developed are reusable and have been designed to replace disposable items which help to reduce waste that ends up in the landfills. Planet Wise Wet Bags™ have been designed to be useful for every age - from young children in diapers to the mature adult -and for transporting shoes, cosmetics, swimwear, or gym wear. Planet Wise Snack Bags™, their newest addition, are made with environmentally friendly FDA food safe material. Also, their packaging is printed on recycled/recyclable paper using soy-based ink.
How Is Planet Wise Inc™ Socially Conscious? Community and family has always been a leading value for Planet Wise Inc.™. Multi-generations are employed as well as fellow neighbors. Employees are given the opportunity for flexible schedules allowing them to work around family time and school schedules. To further promote family values, employees are welcome to bring their young children to work with them.
How Does Planet Wise Inc.™ Do It? During development we carefully researched raw materials and chose as many USA-made materials as possible. While abiding by this high standard of quality, they also continually strive to keep the price affordable for all families. All products are manufactured in a locally women-owned facility helping to support the local economy and reduce our environmental impact. All business decisions, either big or small, are evaluated with the planet's health and social harmony in mind. And a little about their products: Best Bottom Diaper Created to use the pros of all the different cloth diapering systems and eliminate the cons. The Best Bottom cloth diaper system is trim fitting, highly absorbent and not overwhelming. Just adjust the snaps on the shell to fit your baby, snap an insert into the diaper, put the diaper on your baby and go. Best Bottoms are easy to use and easy to clean. Simply lay the shell flat and snap in insert into place. When it's time for a change just unsnap the insert and wipe the shell clean. Three sizes of inserts are available in stay dry and organic cotton/hemp.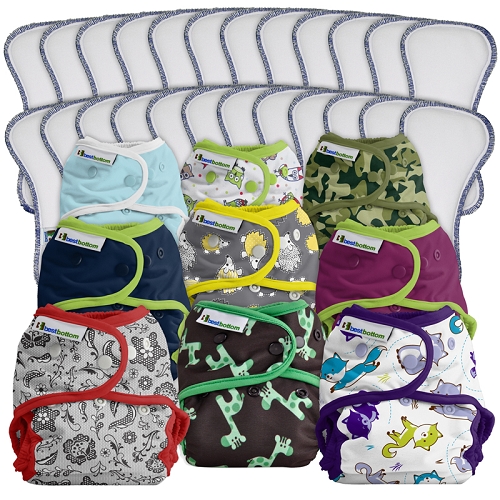 The highest quality of materials available have been selected with as much of the raw materials made in the USA as we could find. The entire Shell is made with USA-made materials! ALL of our products are proudly handcrafted in the USA at local factories helping to support the local economy and reduce our environmental impact. We use durable snaps and hook & loop, double layer of waterproof PUL creating a perfect no-leak sturdy shell with a wipe-able inside lasting for many washes.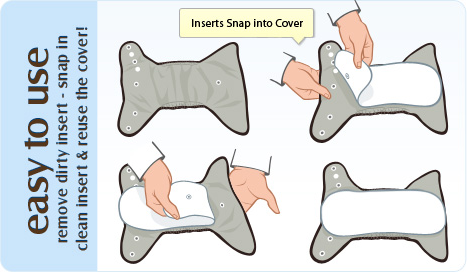 Planet Wise Snack and Sandwich Bags With many different colorful prints Planet Wise Snack and Sandwich Bags are great for the entire family. No more plastic baggies, plastic wrap or aluminum foil. The seams are sealed using the Planet Wise Patent Pending No Leak Design, so you won't need to worry about messes. You can even put a wet washcloth in one for easy clean up on the go! When you are home, just wash, rinse and reuse these great bags! They can be hand washed in warm/hot water with dish soap, or machine wash them in cold water. They are also top-rack dishwasher safe! You can air or towel dry them. Use in the microwave is not recommended. All of the Planet Wise Reusable Sandwich and Snack Bags are made with FDA Food Safe Materials. They are PVC, BPA, Phthalate, Latex and Lead FREE! There are even angled corners for easy cleaning. One of the best features are that they are made right here in the USA!
Wet/Dry Bag The Planet Wise Wet/Dry Bag is a truly innovative bag that allows you to carry your wet and dry items in the same bag. Each Planet Wise Wet/Dry Bag contains a "wet" section that is sewn and sealed for no wicking or leaking AND a zippered dry section along with a clever snap handle for easy carrying. Carry all your items in the Planet Wise Wet/Dry Bag while keeping your dry items dry and your wet or soiled items separate, sealing in moisture and odors. Truly an all in one bag! Planet Wise Wet/Dry Bags are made in the USA with a high quality poly urethane laminate (PUL) that is anti-microbial and inhibits the growth of bacteria and fungi. These bags are not only perfect for cloth diapering on the go, but for going to the pool or the gym.