An ideal carrier for lower weight babies.
This review is written by Cheyenne and Ryley of the North DFW Babywearing group. Both of whom work at Nappy Shoppe and are known in the local community as babywearing experts.
We were so excited when we were asked to review the Baby K'tan. Baby K'tan is an awesome option for newborns and smaller babies without the added hassle of wrapping. You get the same snuggles from a stretchy wrap without the added time! The Baby K'tan is super easy to use and works great for babies up past 20 pounds. I have always found that with any stretchy carrier, beyond 20 pounds can put some strain on you, and become less comfortable after long periods of time. Being able to put the Baby K'tan on easily and correctly in a short amount of time is something we LOVE about this carrier. Plus no ends ever touch the ground, or get dirty in a parking lot.
This is Max at 18 pounds and 15 months in a hug hold.
There are multiple positions for the Baby K'tan, the hug hold being our favorite. The Baby K'tan also allows for a hip hold and explore hold for those babies that really want to look around. You can also breastfeed in it!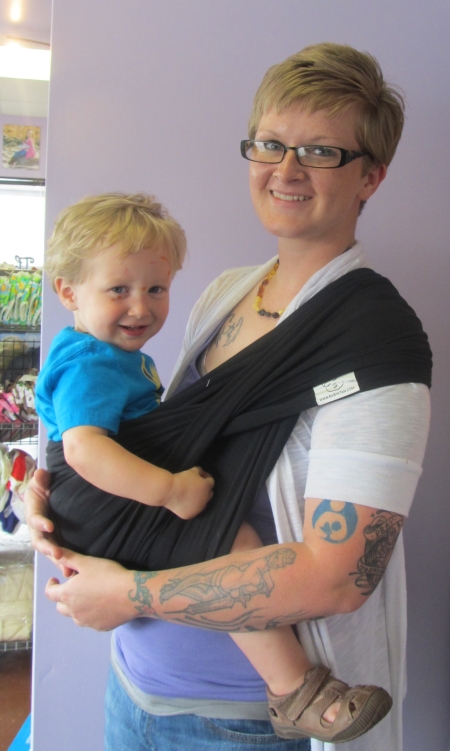 This is Rowan at 24 pounds and 19 months old in a hip carry.
Another feature we love is the bag that comes with it! It folds up nicely and can be stored in your diaper bag without a lot of bulk.
The one thing we found to be an issue was the fact that Baby K'tans are sized. If you can get anyone else in your family to wear, you will probably have to have more than one in order to get the right fit for each person. That being said, with a Baby K'tan, because it is sized there is no wondering if you have it on tight enough. Sizing information can be found here
http://www.babyktan.com/sizing.html. All in all, we love the Baby K'tan for those newborn snuggles!
A little about the authors:
Cheyenne Martin is a baby wearing guru. Working at the Nappy Shoppe, she is known for her skills in all kinds of slings and carriers. She teaches the Babywearing 102 class at the store. Cheyenne is the mother of three little girls, and at the time of writing Leelah, her youngest is worn daily using various carriers that she owns.
Ryley Chestnut is also a teacher at Nappy Shoppe, teaching Babywearing 101 and Cloth Diapering 101. Her young son Rowan is worn daily as well, and when shoppers visit Nappy Shoppe it is not uncommon to see Rowan hanging out in a carrier worn by his mother.