Before I had kids I saw a couple of women wearing their babies in Moby Wraps at a baby expo. I seriously thought it was the neatest contraption I had ever seen. When I got pregnant I was excited to get myself a Moby. When I found out I was expecting twins I remembered that those moms I had seen at the baby expo told me you could even use the Moby with twins, so I went ahead and bought one to see if it really worked.
I remember practicing how to put it on and using stuffed animals as pretend babies. Once I felt confident enough I tried it out with my twins. I didn't use it much with the twins, but I did use it a handful of times when they were really little and colicky. It tended to calm them right down and put them to sleep so I could get a few minutes of peace and quiet.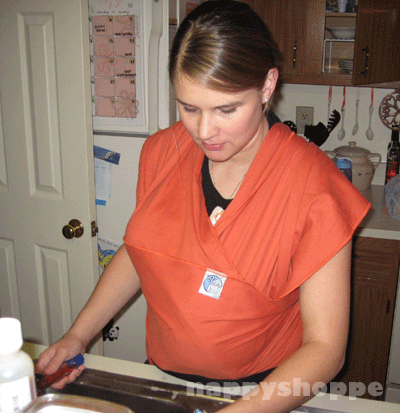 When one of my friends had a baby I let her borrow my Moby to see if she liked it. When the twins were 2 we found out we were expecting another baby, and I began worrying about how I was ever going to do anything in public with 2 toddlers and a baby. I kept thinking I was going to need a triple stroller but those things are pricey and HUGE! Eventually it dawned on me that I needed to get my wrap back. I could use my Moby Wrap to carry the baby and put the twins in the double stroller.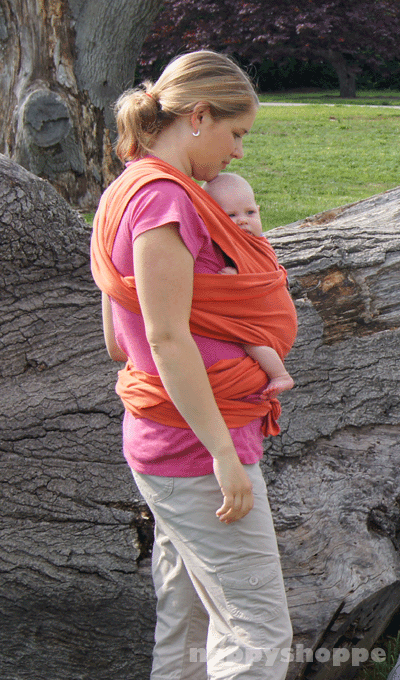 I have been wearing my daughter whenever I go out and about since she was an infant. I used the Moby a lot when she was little. She has always been a big mommy's girl so she loves being so close to me. It comforts her and usually puts her to sleep. I even experimented a little with nursing in the Moby. It is definitely doable but not super easy to get her into position. When she was about 6 months old I made a mei tai (The tutorial I used can be found over at Still Learning Life Blog.) and have been using that ever since. It is a little bit easier to put on than the Moby and works well for us. I think the mei tai is easier to nurse in and the hood works well as a cover up. If I know I'm going to be wearing her for a long time though, like at the zoo, then I will still use the Moby because it is a little bit more comfortable. The Moby is really wide so it distributes the weight better across my shoulders and back.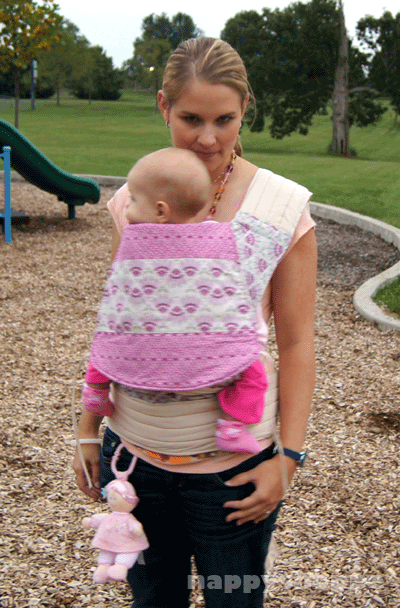 I love wearing my baby (and clearly she loves it too) and always get comments on my carriers, especially the Moby Wrap. The most frequently asked questions are if it is easy to put on and if it is comfortable. My answer is yes to both. There is a learning curve with both the Moby Wrap and the mei tai but after a couple of times they are quick and easy to put on. Both carriers are also very comfortable and distribute the weight across your back, shoulders, and hips. Like I said earlier though, the Moby does tend to be a bit more comfortable, especially for longer outings.
I'm always wanting to try out new carriers and thanks to an awesome Black Friday sale, I will soon have my very own Beco Butterfly II. I'm anxious to see how it compares with a wrap style carrier and a mei tai.
What is your favorite carrier and why?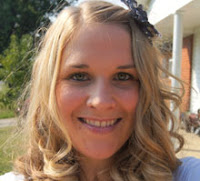 Amanda is a stay-at-home mom of 3 year old, identical, twin boys and a beautiful, 8 month old, baby girl. She is a new found cloth diaper addict who also enjoys sewing and crocheting when the kids aren't climbing all over her. She married an amazing man and enjoys living two houses away from her in-laws. Amanda has a degree in Public Health Education from Brigham Young University. She started blogging to keep her family updated on the crazy and cute things her kids are up to. You find her at The Duke Family blog.